FOUR MORE QUICK & EASY POWER RECIPES TO CALM YOUR NERVES, BALANCE YOUR MOOD AND STOP THOSE HEALTH DESTROYING SUGR SPIKES!
     ENJOY AS A SNACK OR MEAL!
     Good morning, Dyan here (The Health Coach Is In) with 4 MORE quick and easy Power Recipes to help balance your body and balance out you!
    

But first, how did you enjoy the last four quick and easy recipes you tried in my post:

Four Power

recipes you can whip-up in

a

flash!

 

Share with me. Were they easy to make and did they make you feel better?
     Well, I'm not stopping there. I want you to feel great, so I'm posting four more meal ideas to help you stop the roller-coaster of the 'sugar highs' and 'sugar lows,' so many of us experience throughout our busy day.
     So start this week preparing a few of these very simple meals and start feeling rejuvenated, refreshed, more composed and just ready to take on a fabulous day.
SAVOR & ENJOY!
LENTIL PASTA SOUP
In a 2qt sauce pan, heat 1Tb canola oil over medium heat. Cook 1/4c chopped carrots, 1/4c chopped celery, 1 clove garlic, sliced. Stir until crisp and tender.
Gradually add 2-4Tb millet flour, 2tsp thyme and pepper to taste, cook 1 minute. Stir in 1c cooked lentils, 3c organic chicken bone broth, heat to boiling. Stir in 2 servings of cooked spinach pasta.
Sprinkle with parsley. Serves Two
GLUTEN-FREE BARBECUE CHICKEN PIZZA
 Heat oven to 450F (230 Celsius), coat baking sheet with cooking spray, set aside. Roll out Udi's pizza dough (a brand dedicated to GF) into very thin 15"x 11", place on baking sheet.
Spread 3/4c Thai red curry sauce, sprinkle 2c organic (half cooked) barbecue chicken, 1/2c shredded carrots, 1/2c sliced sweet pepper, 1/2 sliced red onion, 4oz shredded Monterey Jack cheese.
Bake until dough is golden and crisp. Top with fresh cilantro or basil. Serves four. 
BLACK BEAN BURGER
 Mix together 8oz can black beans rinsed and drained, 1/2 of a chopped onion, 1/4c chopped parsley, 1 minced clove garlic, 1tsp ground cumin, 1/2tsp each salt and pepper, 5oz frozen peas and carrots, 3/4c bread crumbs and 1 large egg thoroughly and make into 4 patties.
Heat 1Tb sunflower oil over medium heat in large skillet. Transfer patties to skillet and cook until browned. Flip patties and cook until heated through. Serve on sprouted grain buns with spinach leaves, avocado and Dijon mustard. Serves 3
SMOKED SALMON CRACKERS
 Spread 2Tb cream cheese, hummus or avocado on 2 large Wasa crackers. Add 1 small sliced tomato, 1 small sliced cucumber, and 3oz salmon on top. Sprinkle with crushed almonds, if you wish. Serves 1-2
Start balancing your blood sugar with these quick and easy recipes, and relieve your stress, stabilize your moods and diminish your sugar cravings. And start doing this today!
BUT FIRST, BEFORE YOU GO I'D LIKE TO ASK YOU?
 

     Would you like to find an alternative way of relating to food, eating and relating to your body. 
With

 18-DAYS TO MASTER THE 'FREEDOM' OF INTUITIVE EATING

 
you will be working towards freedom
from these issues. You will learn how to cultivate a healthy relationship with food and your body, no matter what you choose to eat.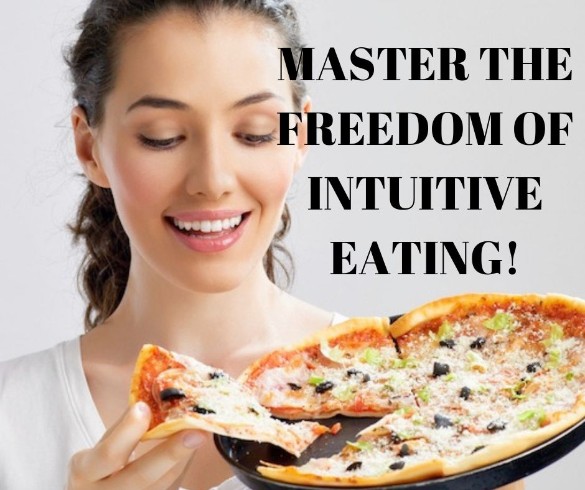 With this program you'll finally have satisfying eating experiences, self-compassion, enhanced well-being and respect for your body and mind, all while pleasurably reaching your body goal.
      Intuitive Eating is a style of eating in which you follow your internal sensations of hunger and satiety to gauge WHEN to eat, WHAT to eat and when to STOP eating.
Don't Wait! Start This Program Today!
With Love & Health
Dyan, NE CHHC
The Health Coach Is In