"HOW OFTEN SHOULD YOU STEP ON THE SCALE? 
 I SAY, "NEVER!"
SAY WHAT?
You heard me....NEVER!
     The act of stepping on the scale and receiving a higher number than you anticipated can be devastating, which can lead to intense feelings of failure, hopelessness and, you guessed it, overeating!
Many people avoid doctor visits, even when sick, because of the anxiety about being weighed on the scale.
     The scale weighs muscles, bones, organs, water and then fat. You could very well have lost fat, but may have simply been retaining water and the numbers on the scale can go up. This alone can make an unsophisticated or overly high-tech scale a very unreliable measure of progress, chug a bottle of healthy refreshing water and your weight goes up.
     Don't let a piece of machinery spit out a number that dictates how you're supposed to feel about you.
     The scale is a meaningless measure of what truly is important and that is; eating foods that are satisfying, honoring your hunger and consistently stopping when you're comfortable full.
     If you need some time to wean off the scale, then give yourself a liberating peace-of-mind by using a 'clothing scale' instead. Simply pick a skirt, a pair of jeans or a dress that is snug or tight on you right now and use that to track your progress or pay more attention to your fullness cues.
   

 Don't let some numbers control your life. You be in charge! Break-away from those numbers and move toward a free and easy normal relationship with YOU and the foods you put in YOU!
     With Intuitive Eating you will eat the foods you love and you'll learn what amounts will keep you content and satisfied.
It's time to take a look at:
and start doing that today.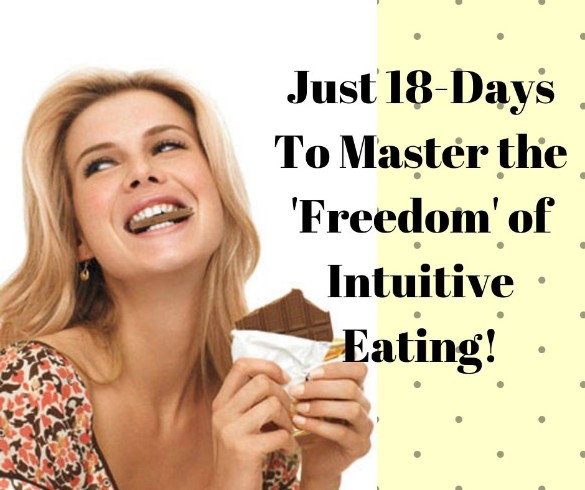 The scale imperils your ability to listen to your internal wisdom, signals and signs. Don't waste your life obsessing over it, it's draining and encourages binges, and that's no way to live.
 Tape a note to your scale that says, "You're the manipulative frenemy I don't care to see." Make this time the time to get into your right sized body, without using the scale.
SEE YOU THERE!
With Love & Health
The Health Coach Is In 
Dyan, NE CHHC
How does the number on your scale affect you?